Hello People. This article gives you information about Ampere showrooms in Pune. Electric vehicle users are already aware that Ampere manufactures electric two wheelers in multiple models.
Ampere Shivaji Nagar
This Ampere showroom is located at Epicentre, Showroom no 3, S4, Ashwini Society Rd, near Shopper Stop, Corporation Colony, Wakadewadi, Shivajinagar, Pune, Maharashtra 411005
Ampere Marunji
Ampere Marunji can be reached at Rhythm Bajaj, Gat No. 45/1/2, Buchade Wasti, Near Alard College Besides, Hinjewadi Marunji Rd, Marunji, Maharashtra 411057
Maha Laxmi Agencies
This Ampere electric vehicle dealer is located at Pruthvi-Prasth, Near Marketyard, Old, Pune - Nashik Hwy, Chakan, Maharashtra 410501
Dixit E-Motors
This electric vehicle dealer is located at 235, near Behere's Classes, Navi Peth, Sadashiv Peth, Pune, Maharashtra 411030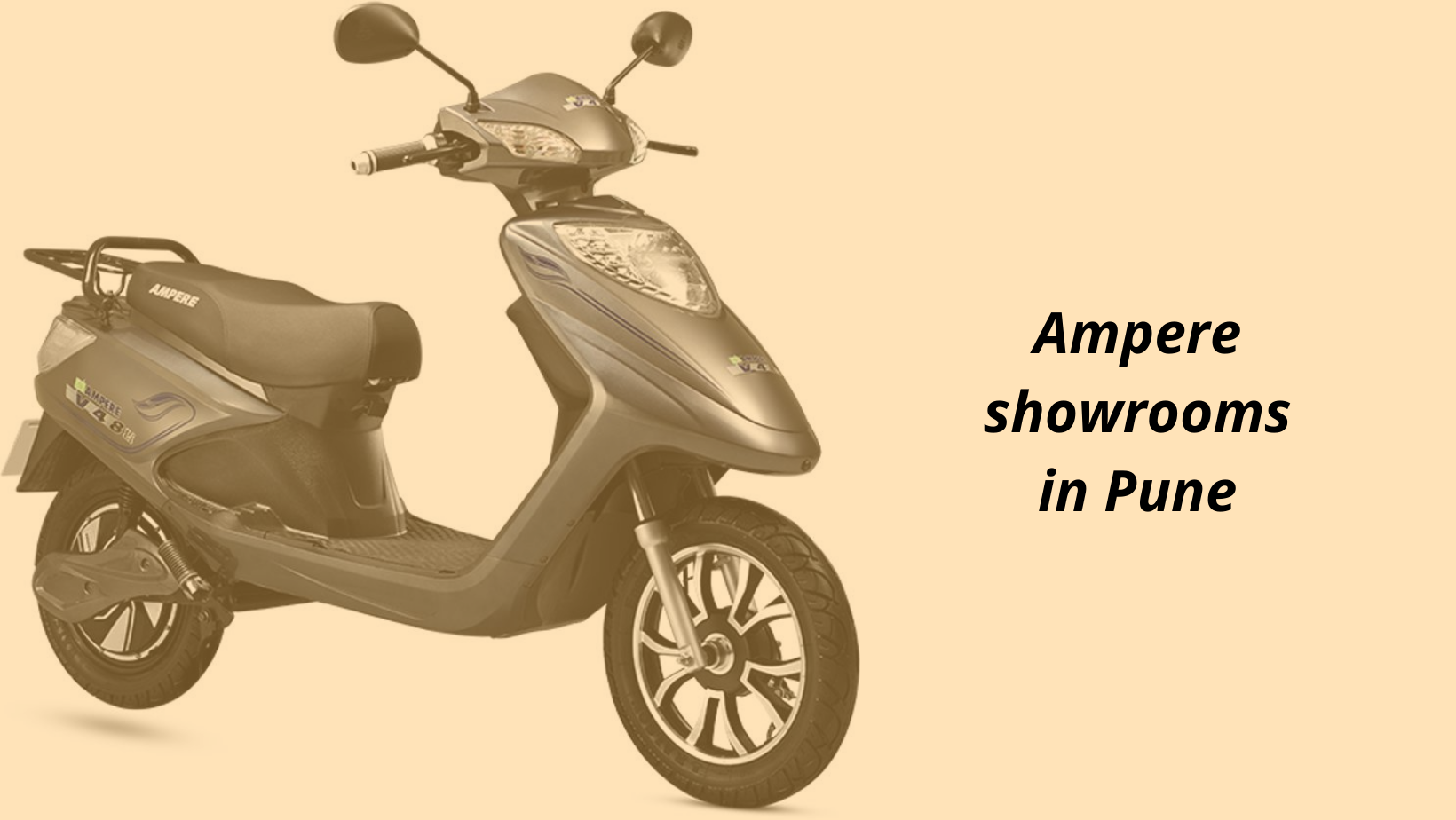 Ampere Tukaraninavale Path
This Ampere showroom can be reached at 235, Navipath Tukaraninavale path, Pune, Maharashtra 411030
Ampere Kharadi
Ampere Kharadi is located at Survey No. 134, Nagar Rd, next to Tulaja Bhawani Mandir, Tulaja Bhawani Nagar, Kharadi, Pune, Maharashtra 411014
E-Throttle Corp
This electric vehicle dealer is located at Sr. No. 17/4, Aundh Ravet BRT road, flyover, near Jagtap Dairy, Maharashtra 411027
Miracle5 Electric Bikes
This electric two wheeler dealer can be reached at 1304 / 1305, Bajirao Rd, near N M Wadia Hospital, Subhash Nagar, Shukrawar Peth, Pune, Maharashtra 411002
Jai Mata Di Auto
Jai Mata Di is an ampere electric dealer and is located at Shop No.5,Shreeyash Industrial Premises, beside Prakash Diesels, Mohan Nagar, MIDC, Chinchwad, Pune, Maharashtra 411019
For the electric vehicles to run smoothly, charging infrastructure is very important. What are the minimum requirements to setup an ev charging station? The minimum requirements for a Public Charging Station include an exclusive transformer with all related substation equipment which includes plug-in nozzles, 33/11 KV cables (for metering and termination purposes) and also, circuit breakers the form of safety equipment.
You can get an awareness of the different types of electric vehicle charging, the time they take to charge a vehicle by reading the info given below.
Level One EV charging
This can be used at home. Level One electric vehicle charging is rated at 120 volts. The hardware required for this is a cord with an attached control-box and is supplied as standard with every electric vehicle. One has to simply plug-in to a three-pin wall socket. The three pin plug has to be grounded. It usually takes 16 to 20 hours to fully charge the vehicle's batteries depending upon its capacity using this type of charger.
The advantage of using this charging type is that it does not require the installation of additional hardware and easy to use. You just simply need to the park your vehicle near a three-pin wall socket and plug-in the charging cable. The drawback of this technique is that it takes a lot of time to completely charge the vehicle.
Level Two EV charging
Level Two charging for electric vehicles is rated at 240 volts.  This type of charging requires additional hardware. On the purchase of an electric vehicle, manufacturers or charging station providers will install an AC wall-box charger at the customer's home and in some cases at the place of work as well. An electric vehicle can be fully charged in as early as 6 hours or so depending upon the battery capacity using this charger.
Level 2 charging is considerably faster when compared to Level 1 charging. It is said to be more energy-efficient as well. But this charging technique is expensive because of the use of more sophisticated hardware.
Level Three EV charging
The level Three chargers for electric vehicles are the ones that one will find at public charging stations. These are called as DC fast charging. It converts the AC current into DC current for direct storage in electric vehicle batteries. It is usually rated at 480 volts.
With the help of a DC fast charger, an electric vehicle can be charged to 80 per cent in less than an hour. Tesla superchargers are able to reach the same charging capacity within half an hour. The hardware required for the same is quite expensive and is usually found at public charging stations. In order to use them, one needs to pay certain charges to the service provider.
Hope this article on Ampere showrooms in Pune is useful to you. Please read Ampere showrooms in Mumbai