Audi SkySphere Concept- The Luxury Roadster of the future
Hello people. This article is about Audi skysphere concept which is likely to be the luxury roadster of the future. Audi has introduced its first futuristic concept car it created to showcase the technology and design. It is called SkySphere. It is a luxurious electric roadster with a wheelbase that can be modified by the driver.
The SkySphere stretches about 204 inches long and 78 inches wide. It looks like it belongs in a science fiction movie. LED technology creates a new interpretation of Audi's familiar Singleframe grille. There are a number of retro touches concealed in the design.  Each group of spokes channels cooling air to the regenerative braking system that helps increase driving range.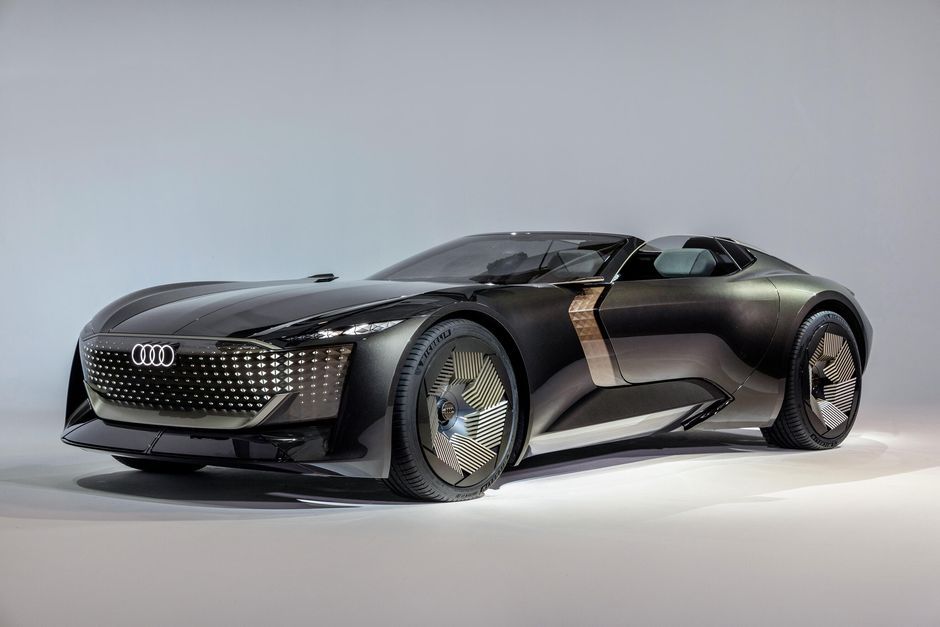 The SkySphere's wheelbase can be adjusted by nearly 10 inches. It consists of body and frame components that are designed to slide into each other to give the driver the option of choosing a short or a long wheelbase car.
Selecting a driving mode named Sport lock, it takes advantage of the rear-wheel steering system to deliver sharp, nimble handling. Selecting the Grand Touring mode increases the space between the axles to clear up a generous amount of room for the occupants. When this profile is selected, the steering wheel and the pedals disappear into the dashboard as Level 4 autonomous technology drives the car.
Power is provided by an electric motor mounted over the rear axle. It provides the rear wheels with 623 horsepower and 553 pound-feet of torque by drawing electricity from a lithium-ion battery pack.
It takes four-seconds to sprint from 0-60 mph, according to Audi. The company adds that the concept car weighs about 4,000 pounds, and that around 60% of the mass is located on the rear axle thanks to a two-part battery pack. Around 70% of the cells are stuffed in the space between the seats and the rear axle, while the rest are integrated between the seats.
The interior is just as futuristic as the exterior, it's dominated by screens and touch-sensitive surfaces. This is the direction the car industry is going in: more digital, more entertainment and more connectivity.
The next two concepts in the Audi series are called GrandSphere and UrbanSphere, respectively. The first looks like a limousine with unusual proportions and a living room-like cabin. It will make its public debut at the 2021 edition of the Munich auto exhibition that opens its doors on September 7. The second is a taller model that looks like a mini van. It will be presented in Shanghai, China in 2022.
Hope this article on Audi skysphere concept which is likely to be the luxury roadster of the future is useful to you. To read about jobs in the Electric Vehicle Industry, please visit Job opportunities in Electric Vehicle Sector and its Charging Infrastructure industry