Infotainment system in electric vehicles
Hello People. This article is about Infotainment system in electric vehicles.
In-Vehicle Infotainment System is one of the key technologies which works as a focal point of all the modern automotive systems. It integrates their functions to be controlled and monitored from one central unit.
What is In-vehicle infotainment?
It is a combination of vehicle systems which are used to deliver entertainment and information to the driver and the passengers. It does so through audio/ video interfaces, control elements like touch screen displays, button panel, voice commands, etc.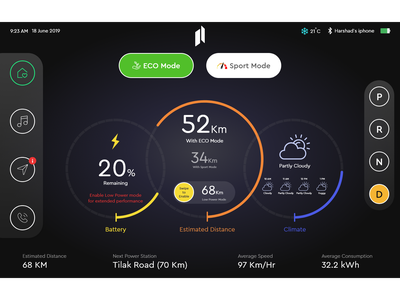 How does an Infotainment System work?
Infotainment system works in integration with many other in-vehicle and external systems. It offers entertainment and information to the driver and passengers.
The main components of an in-vehicle infotainment systems are:
Integrated Head-Unit
In-vehicle infotainment head unit is a touch screen based, tablet-like device, mounted on the vehicle's dashboard. With user friendly HMI, the head unit acts as a perfectly connected control center for the infotainment system.
Heads-Up Display
Heads-up display displays the vehicle's real-time information on the transparent screen integrated with the vehicle's windshield.
Heads-up display helps in reducing the driver's distraction while driving and assists him with key details like speed, navigation maps, electronic digital cluster (information from vehicle's OBD port-II), climate, multimedia options, etc.
High-end DSPs and GPUs
Today's infotainment systems are powered by powerful automotive processors designed for advanced IVI systems.
These automotive processors are capable of displaying content on multiple displays and delivers an enhanced in-vehicle experience to drivers and passengers.
Operating Systems
In vehicle infotainment systems use operating systems that are capable of supporting connectivity, convenience functions, and downloadable software applications to integrate new functions in the system.
Operating systems like Android, Linux, QNX, Windows  are leading the infotainment segment.
CAN, LVDS
The electronic hardware components in infotainment systems are interconnected with certain standardized communication protocols such as CAN (Controller Area Network).  
CAN or any other network protocol support allows microcontrollers and devices to communicate with each other in applications without the host computer.
Connectivity Modules
Infotainment systems encompass GPS, Wi-Fi, and Bluetooth modules to provide connectivity with external networks and devices.
These modules help in establishing services like navigation, internet connectivity and smartphone integration with the infotainment system.
Automotive Sensors Integration
Proximity sensors, gesture recognition sensors for detecting ambient light, camera sensors and many other in-vehicle sensors integrate with infotainment systems to provide safety-related information to the driver and passengers.
Digital Instrument Cluster
Digital instrument clusters include digital displays of the traditional analog gauges in the vehicle like speedometer, RPM, odometer, etc.
Digital instrument clusters fetch information from the vehicle ECU unit via OBD port-II and displays in the display screen of the infotainment system.
The instrument cluster is integrated with other digital interfaces of the vehicle like Head Unit, Heads-up Display (HUD) HVAC and Infotainment systems.
Features of an in-vehicle infotainment system
Some of the key features of in-vehicle infotainment system are as follows:
Touch Screen
Touch Screens are mainly made up of LCD or TFT. The automotive infotainment system display ranges from 2 inches to 12 inches in general, although some HD displays are 20 inches wide.
Smartphone Pairing
Smartphones can be paired with the vehicle infotainment system using Bluetooth connectivity.  This feature allows users to manage incoming, outgoing, and conference calls via the infotainment system. It also allows users to view their phone contact list, call logs, mark favorite contacts, and read SMSs.
Analog and digital tuners
This refers to AM and FM tuner bands for low to premium infotainment systems. AM and FM radio can be adjusted to auto or manual tuning or can be scanned for available radio stations.
Multimedia Support
Images with JPEG, PNG and BMO formats and videos with .mp4 and .avi formats are more suitable for infotainment systems.
Android Auto and Apple CarPlay
Android Auto supports apps from google (like google maps, google play music, etc.) through any of the android based smartphone, Apple CarPlay supports iOS-based apps from the App Store.
Control Elements
All the functionalities in the latest in-vehicle infotainment systems can be accessed and controlled using touch screen panel of the head unit, button panel, steering wheel controls and voice commands.
Support Vehicle Functions
Infotainment systems support vehicle functions like parking assistance. Park Assistant notifies the driver in case of any obstacle in the vehicle's path.
Hope this article on infotainment system in electric vehicles is useful to you. To read about jobs in the Electric Vehicle Industry, please visit Job opportunities in Electric Vehicle Sector and its Charging Infrastructure industry