India's first internet car powered by i-SMART technology
Hello People. This article is about India's first internet car powered by i-SMART technology. Morris Garages Motor India is set to launch India's first internet car MG ZS EV powered by i-SMART technology.  The i-SMART EV 2.0 unit inside the ZS EV allows the users to connect the car to home or office WiFi networks, a segment first. It will come with an embedded Machine to Machine (M2M) eSIM developed with Unlimit and based on Cisco's Jasper platform, with Airtel as the telecom partner.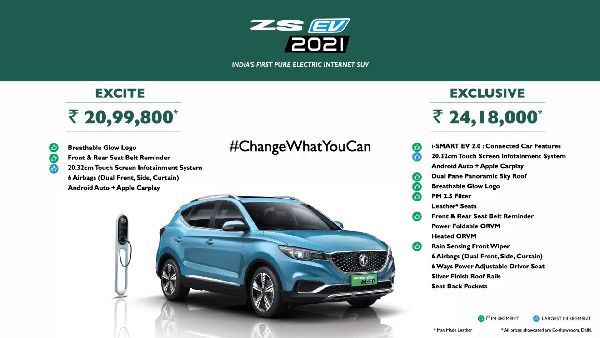 6-core processor and 5G platform
MG ZS EV's technology i-SMART EV 2.0's hardware unit is powered by an all-new 6-core processor. The platform is Internet Protocol Version 6 (IPV6) and 5G ready. It has been developed in association with Unlimit (A Reliance ADAG company).
External Wi-Fi
MG ZS EV's technology i-SMART EV 2.0 comes with an inbuilt embedded SIM providing internet onboard but it can also be connected to an external Wi-Fi connection. This could be home network or mobile hotspot. It allows users to derive maximum internet speed for operation of the infotainment system.
Voice Assistant
It is also said that the MG ZS EV comes with a cloud-enabled, AI-based Voice Assistant powered by Nuance Communications which can understand about 100 voice commands to control various features and functions of the vehicle, like "Open the Sunroof" and "Find me the nearest charging station". This assistant has been developed for the Indian market to recognize Indian-accented speech.
Talking about the price, MG ZS EV SUV is expected to start at around Rs 21,00,000 in India. It is yet unknown as to when the car will be made available in India, though it will be sold via official MG Motor showrooms.
Coming to the performance, the MG ZS EV has an electric motor with a power of 143PS ( horsepower), which can provide consumers with a speed of 0 to 100 Kmph within 8.5 seconds. The battery has a size of 44.5KwH capacity, and can run up to 340 kms on a single charge. The battery also comes with an IP67 water and dust resistance rating. The car has a PM2.5 filter and follows European Safety standards.
MG ZS EV comes with lifetime over-the-air (OTA) software updates. It also comes integrated with a premium Gaana account and the AccuWeather app too. MG claims that all the consumer data it collects will be stored securely in MG Motor's own Cloud infrastructure within India. The MG Cloud is powered by Microsoft Azure.
Hope this article on India's first internet car powered by i-SMART technology is useful to you. To read about jobs in the Electric Vehicle Industry, please visit Job opportunities in Electric Vehicle Sector and its Charging Infrastructure industry