Solar powered electric vehicle charging station business in India
Hello people. This article is about solar powered electric vehicle charging station business in India.
Global Scenario
Worldwide, drivers are shifting to electric vehicles at a fast pace. Entrepreneurs and businessmen have an opportunity to use this development to create a differentiation over competition and make good profits.
As EV adoption increases people will decide where they eat, shop, and park based on the availability of charging stations thus creating more business opportunities.
EV charging businesses can also benefit from the tax cuts and reduced operational costs. State/Central Governments are also providing Income tax benefits to employees using Electric Vehicles.
Solar energy and storage comes into electric vehicle charging to not only supplement the grid but to also work standalone at feasible locations across the country.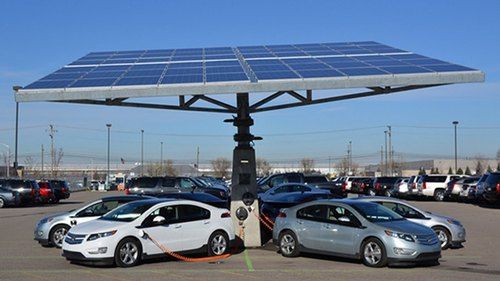 Components of a solar charging station
EV charger
Solar panel array
Battery energy storage system
Solid foundation like a steel base plate
Software setup
Types
Solar energy charging station for electric vehicles can be classified into two types namely On-Grid solar charging stations and Off-Grid Solar charging station
On-Grid solar charging stations
On-grid solar energy system is the most straight forward way to charge your electric car with solar energy.  A grid-tied solar energy system will feed the power to the grid, regardless of whether your home needs the power at that moment or not.
When your solar energy system is feeding to the grid, and you are at your office, the electric power generated at home is sold to the utility company. You'll get that power back from the utility company in the form of a credit. When you come back from work and park your car at home, you can use that credit to re-charge your car at home.
Off-Grid Solar charging station
An Off-Grid solar electrical car charger has no connection to local utilities company. The solar panel array will feed the battery energy storage system and the entire power needs are drawn from this storage system.
Off-grid electrical car chargers can be placed virtually anywhere, as there's no need for a connection to the electrical grid. An ESS battery storage system is used in case of an Off-Grid Solar energy charging station.
The Delhi-Chandigarh Highway has become the first e-vehicle friendly highway in the country. A network of Solar-based Electric Vehicle Charging stations (SEVCs) set up by Bharat Heavy Electricals Limited (BHEL) under the FAME-1 [Faster Adoption and Manufacturing of (Hybrid) & Electric Vehicles in India] scheme of the Ministry of Heavy Industries.
Moreover, solar panels are also being installed on electric vehicle roof tops. The benefit of solar-powered vehicles is that they have a low cost of maintenance and they run longer on the same battery. This requires less charging stops. Solar energy is a renewable energy source and it is free.
The power that can potentially be generated on a car roof using solar panels has increased substantially, due to the continuous improvement of solar cell and solar module technology. Therefore a significant extension of the driving distance could be feasible.
Hope this article on how Solar powered electric vehicle charging station business in India is useful to you. To see the list of top electric cars in India, please visit https://iwheels.co/blog/top-electric-cars/