Top Internet Of Things (IOT) platforms
Hello People. This article discusses about Top Internet Of Things (IOT) platforms. Connecting devices through IOT involves creation of a distributed network. This network consists of numerous physical objects equipped with embedded software, sensors and connectivity options that collect and share data with each other and with the central platform via the internet.
IoT architecture consists of four important layers. Sensors and actuators collect data directly from physical objects (devices, equipment, machines, vehicles, home appliances, people, animals, etc.). Gateways and data acquisition systems convert gathered data from the analog to the digital format. Edge computing ensures there's immediate preliminary data analytics right on devices. Data centers or cloud services provide deep data analysis, processing and storage.
Why Is an IoT Platform significant?
An IoT platform serves as a mediator between physical objects and the software. Combining numerous tools and functionalities, Internet of Things platforms enable you to build unique hardware and software products for collecting, storing, analyzing and managing the data generated by your connected devices and assets.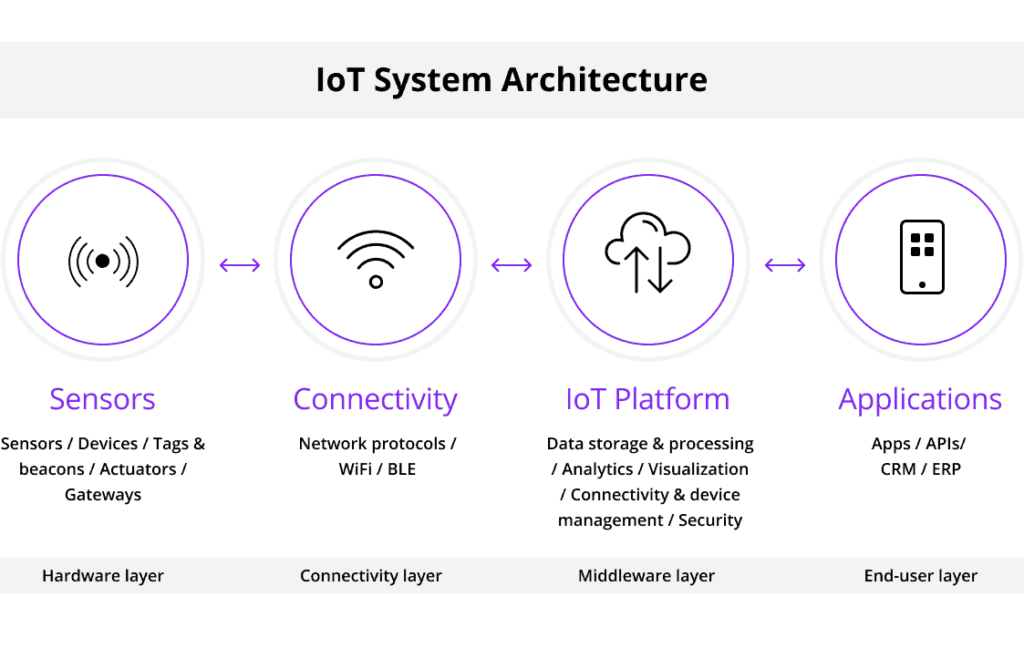 Some of the Top IOT Platforms are as follows
Google Cloud IoT
Google launched its platform for Internet of Things development on the basis of its end-to-end Google Cloud Platform. Google Cloud IoT is the integration of various services that add value to connected solutions.
Cloud IoT Core allows you to capture and handle device data. A device manager component is used to register devices with the service, and monitor and configure them. MQTT and HTTP protocol bridges are used for device connection and communication with the Google Cloud Platform.
Cloud Pub/Sub performs data ingestion and message routing for further data processing.
Google BigQuery enables secure real-time data analytics.
AI Platform applies machine learning features.
Google Data Studio visualizes data by making reports and dashboards.
Google Maps Platform helps visualize the location of connected assets.
The platform automatically integrates with Internet of Things hardware producers such as Intel and Microchip. It supports various operating systems, including Debian Linux OS.
Main features of Google Cloud IoT:
AI and machine learning capabilities
Real-time data analysis
Strong data visualization
Location tracking
Main use cases:
Predictive maintenance
Real-time asset tracking
Logistics and supply chain management
Smart cities and buildings
IBM Watson IoT
An IoT platform built on IBM Cloud is a fully managed cloud service for device management, flexible and scalable connectivity options, secure communications and data lifecycle management. With IBM Watson IoT, you can collect insights from automobiles, buildings, equipment, assets and things.
Main features of IBM Watson IoT:
Data ingestion from any source with the help of MQTT
Direct access to the latest data in the Cloudant NoSQL DB solution
Built-in monitoring dashboards to control your assets
Analytics Service to process raw metrics
The Cloud Object Storage solution for long-term data archiving
Main use cases:
Supply chain management
Regulatory compliance
Building management
Energy consumption
Shipping and logistics
Amazon AWS IoT Core
One of the leading players in the market, Amazon AWS IoT Core allows you to connect devices to AWS cloud services without the need to manage servers. The platform provides reliability and security for managing millions of devices.
Main features of Amazon AWS IoT Core:
A wide choice of connection protocols, including MQTT, MQTT over WSS, HTT and LoRaWAN
Ability to use with other AWS services such as AWS Lambda, Amazon Kinesis, Amazon DynamoDB, Amazon CloudWatch, Alexa Voice Service and more to build IoT applications
A high level of security provided by end-to-end encryption throughout all points of connection, automated configuration and authentication
Machine learning capabilities
A variety of services for edge computing
Main use cases:
Connected vehicles
Connected homes
Asset tracking
Smart building
Industrial IoT
Microsoft Azure IoT Hub
With the open-source Azure IoT platform from Microsoft, you can quickly build scalable and secure edge-to-cloud solutions. Utilizing ready-to-use tools, templates and services, you can develop flexible applications according to your company's needs.
Main features of Azure IoT Hub:
Data protection all the way from the edge to the cloud
The ability to operate even in offline mode with Azure IoT Edge
Seamless integration with other Azure services
Enhanced AI solutions
Continuous cloud-scale analytics
Fully managed databases
Azure Industrial IoT solution
Main use cases:
Automotive industry
Discrete manufacturing
Energy sector
Healthcare
Transportation
Retail
Hope this article on Top Internet Of Things (IOT) platforms is useful to you. Please read Difference between Microprocessor and Microcontroller